Marita Davison
Remote and precarious: How do Flamingos affect lake ecology in the Bolivian Andes?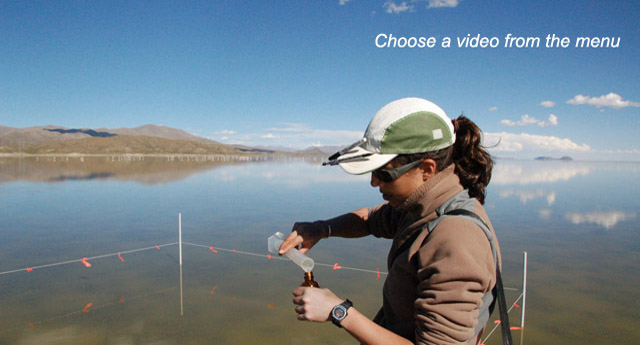 Marita's Profile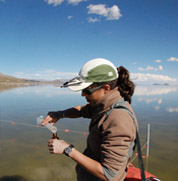 1. What is the focus of your research?
My research explores how human activities affect individual species and the ecosystems in which they live. I am investigating the potential impacts on lakes if flamingos in the Andes mountains of Bolivia were to become extinct. In my experiment, I fence flamingos out of some sections of the lakes and then I measure changes in ecosystem processes (such as primary productivity). These measurements will help me understand what might happen if flamingos became extinct. My goal is to provide a picture of what these lakes might look like if flamingos disappear and whether the changes in the lakes might be permanent or not.
This is a very important question. These flamingos are highly threatened due to several human activities, such as mining, geothermal energy, agriculture, and ecotourism. Ecotourism has brought a new source of income to the communities, but it might cause flamingo populations to decline. If this happens, ecotourism income will soon disappear.
2. What got you interested in this line of research?
I have always been deeply concerned about how humans and natural world interact. Human activities affect individual species and their ecosystems in different ways and their outcomes are often unpredictable. Ultimately, the health of human societies depends on a healthy environment. The extinction of Andean flamingos may seem unimportant to many people. However, even if we live far away from the Andes, we all depend on healthy ecosystems.
The recognition of these patterns, along with my fascination and fondness for nature, led me to pursue a career in conservation. I realized early on that conservation efforts must be informed by sound science in order to provide relevant and needed solutions to problems. From then on, my goal has been to become involved in research that can provide practical answers for helping to prevent damage to the natural environment.
3. Where did you grow up, and how does this relate to what you are doing now?
When I was 7, my family moved from the United States to Bolivia and we lived there until I was 15. Although I also lived in Brazil and Peru, I really consider Bolivia my "home." It is the poorest country in South America and I grew up seeing awful poverty around me. These experiences have made me want to find a way to improve human conditions in my country. I believe that human welfare depends on the balance between humans and nature. I feel an obligation to my country and I want to use my experiences to help Bolivians strike that balance for themselves. In Bolivia, flamingos are not only a tourist attraction, they are also symbols of national pride. Through my research, I hope to inform and guide management of these species so that they can be protected while continuing to provide economic and cultural benefits into the future.
4. What do you like to do in your spare time?
I am a nomad at heart, so I usually look for any opportunity to travel and explore something new. I love being outdoors. In the summers, I often compete in Triathlons, so I'm usually swimming, biking, or running. In the winters, I like to snowboard and cross-country ski. I also love to cook and I adore any kind of dancing, especially Salsa and Tango. I'm a bit of a movie and book geek, and will usually curl up to a movie or with a book before going to sleep.
5. Why is it important for us to conserve biodiversity, and how does this relate to your career path?
There are many, many reasons to conserve biodiversity. First, biodiversity provides us with food, fiber, shelter, medicines, etc. Biodiversity also gives us fresh water, clean air, and fertile soil. Aside from these practical reasons, biodiversity also provides us with cultural and aesthetic value. For example, many people enjoy hiking in the woods or watching natural history television shows like Planet Earth. Neither of these things would be possible without biodiversity! Biodiversity and all its mysteries can inspire, awe, and give solace. Simply put, biodiversity provides for our physical and emotional needs as human beings; without it, we would not be able to survive. I am devoted to my career as a conservationist; I believe that biodiversity is not only ours to protect now, for our own well-being, but also so that future generations can experience it as we have.