Curriculum Resources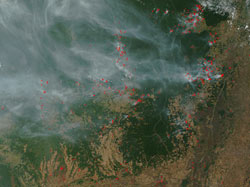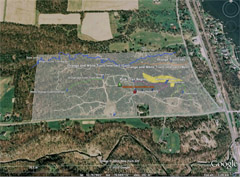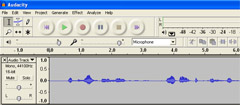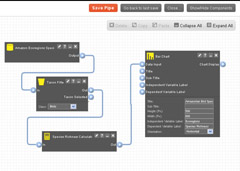 Crossing Boundaries students use geospatial technology to analyze biodiversity conservation issues in Brazil, Mexico, Kenya, and New York State. Using wikis, podcasts, and blogs, they collaborate with peers, exchange peer reviews and create presentations.

A Bird's Eye View of Changing Landscapes
Students view landscape change over time and predict potential impacts on biological communities. Using pairs of current and historical satellite images in Google Earth, students explore landscape change in U.S. and international settings. Based on these observations, they predict potential effects on associated plant and animal communities.

Relationships Among Organisms and Their Environments
Students learn key ecological concepts through analysis of interrelationships between organisms and habitats, and they create podcasts to present the life history of a selected organism and its connection to other organisms and the environment.

Bird Island: What is Biodiversity?
Through spatial and graphical analysis of bird populations on a fictional island, students learn the meaning of biodiversity, species richness, endemism, and abundance. Using an interactive PDF map, they explore various ways to represent and compare biodiversity across regions.

Science Pipes: Exploring Geographic Differences in Biodiversity
Students discover biodiversity levels in local and foreign ecoregions. Using Science Pipes, a web-based data visualization and analysis tool, they design and conduct investigations to analyze patterns and trends in species richness in the Amazon compared with New York State and other parts of world. Using a wiki, they present and peer review their findings.

People and Wildlife in the Amazon
Using ArcGIS to explore spatial data, students examine socio-environmental issues of the Amazon and balance tradeoffs to select a site for a biodiversity preserve that will meet specified needs of human communities and a diverse natural environment.

Crossing Boundaries Conservation Scientists Profiles
Through media-rich profiles, students meet Cornell University graduate students who are conducting compelling biodiversity-focused research in the U.S. and abroad. The scientists' research, ambitions, and life stories come to life in video, Google Earth, and interactive web profiles.

Create Your Own Google Earth Lesson
Students conduct research on a topic specified by the teacher and integrate what they have learned into a Google Earth tour that can be followed by peers.
Project Specific Resources
Crossing Boundaries Wiki (password protected)
Send an email to 2010-2011 CB Listserv
Send an email to 2009-2010 CB Listserv
Send an email to the general CB Listserv