Bird Island: What is Biodiversity?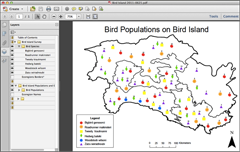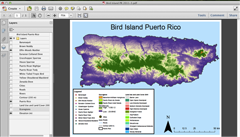 How can we make learning science terms and graphing skills more interesting, effective and meaningful?
Through spatial and graphical analysis of bird populations on a fictional island, students learn the meaning of biodiversity, species richness, endemism, and abundance. With the teacher acting as a facilitator, students use an interactive GIS map to explore various ways to represent and compare biodiversity across ecoregions. Students manipulate information layers to identify, describe, compare and graph bird distribution patterns in the island's different ecoregions. Rather than being given a list of vocabulary words, students grapple with the material to discover the meaning of these words and concepts. Through this experiential process, they combine the newly acquired terminology with complementary skills to evaluate and communicate their findings on bird biodiversity. These two lessons prepare students for the more complex use of spatial and graphical analysis in our GIS-based Amazon unit.
Bird Island (Fictional)
Lesson Plan: What is Biodiversity? (Word, PDF)
Student Worksheet: Graphs (Word, PDF)
Bird Island Map for Teachers (demo purposes)
ArcGIS.com- Interactive Web Map

Bird Island Map for Students (classroom use)
ArcGIS.com - Interactive Web Map

National Geographic Biodiversity Video (used for introduction in lesson plan)
Bird Island Puerto Rico
ArcGIS.com - Interactive Web Map
Additional resources
Ecological Society of America's Definition of Biodiversity
What our teachers are saying about this lesson
In what type of classes did you use this?
Living Environment; SUNY ESF; Soils, Waters and Forests; AP Environmental Science; General Environmental Science; Middle School Science
How did you use it?
"I used this lesson as an introduction to biodiversity. We then used it later in the course as a scaffolding for further inquiry-based projects. Students went on to compare biodiversity between an old-field site and a managed field. They later compared biodiversity of soil macroinvertebrates in various land management sites."
"I used it as a class demonstrations which worked really well for the classes I have. I wanted to make big graphs that could be used more as a classroom discussion to see how much they knew about biodiversity. It would have been difficult to have the students go to the computer lab and then make graphs and still try to have a classroom discussion. It was great to be able to walk around and interact with groups. I was also able to talk about data manipulation. I gave very little instruction about how the graph had to be made so we talked about the ways the graph looked as to what the data was actually telling us. It was also a good opportunity to talk about the basics of graphing which students struggle with especially in the beginning of the year."
"I incorporated the lessons into my biodiversity unit. It was an introductory lesson on species diversity and habitat."
"As an assessment for biodiversity."
"I had never discussed the concepts of richness or evenness before even though I think some students had previously wondered - this helped me easily illustrate those points."
"We talk about Biodiversity as part of the Ecology unit. I used this as an extension of the state required Beaks of Finches Lab, and as a lead-in for the state required Biodiversity and Relationships Lab."
How did the lesson go?
"I had never discussed the concepts of richness or evenness before even though I think some students had previously wondered - this helped me easily illustrate those points."
"The students were engaged during the entire lesson and remained focused. This lesson opened the floor for conversation about biodiversity and the many facets that make up biodiversity. The map was simple and the students made excellent observations and predictions as to the environment of each ecoregion."
"Using the PDF file was very easy for all of the students. The discussions about similarities and differences once they had made their bar graphs were the best part of the activity."
"This activity was so easy to roll out, and it achieved my objectives without a hitch."
"The connection that this activity makes to content information that is embedded in virtually every biology and environmental course is a huge strength. It is a whole lot more engaging to have students arrive at their own definitions rather than providing that even with the most exciting of accompanying images."
"Has many levels depending on ability of the student. Could be used for differentiated learning."
"Students can come up with simple similarities and differences and more complex ones, which means students at all levels can participate.
Do you recommend this lesson to other teachers?
"I would highly recommend this to any teacher who is teaching about the concepts of biodiversity. This lesson is interactive as well as cooperative. It promotes group discussion and student thinking when comparing the regions. The technology is great because it is easy to use, and something a little different for the students to use. They enjoyed clicking the different birds species to see the different distributions."
"I would encourage other teachers to utilize this lesson both as an inquiry based activity and a great way to introduce a core topic. Group activity and student centered learning are used throughout."
"I have recommended this lesson to our school's living environment teacher and she used it in her class. She had sucess with the lesson as well, showing that it is easily adjusted to numerous age levels and skill levels. I think that this is an excellent starting point for a discussion about biodiversity where students are developing their own opinions and supporting them with evidence."
"Yes!!! Its easy to implement. Allows students to work together to construct meaning for themselves. Much more effective! Allows them to apply critical thinking skills."
"This is a fabulous example of an activity that promptly moved content delivery from "spray and pray" to "inquiry."
"This is a fabulous example of an activity that promptly moved content delivery from "spray and pray" to "inquiry."