People and Wildlife in the Amazon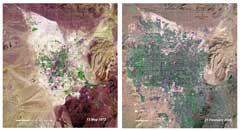 In "People and Wildlife in the Amazon" students manipulate and analyze web-based GIS maps to site a new wilderness preserve and a multi-use reserve in Brazil. Working in response to a request by the Brazilian government, students explore a variety of data layers as they struggle to identify specific locations for two proposed locations.
The web-based map enables teachers to facilitate this investigation using no more than a web browser. Students are able to turn layers on and off, change the transparency, and draw their locations as the struggle to both meet the criteria provided and develop logical arguements as to why they are choosing specific locations.
Curriculum materials:
Lesson Plan (not yet available)

Additional materials: