Bird's Eye View of Changing Landscapes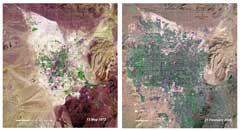 "A Bird's Eye View of Changing Landscapes" introduces students to landscape change and potential impacts on biological communities. Using pairs of current and historical satellite images in Google Earth, students explore landscape change over time in variety of U.S. and international settings and predict potential effects on associated plant and animal communities.
Imagine students zooming into the Amazon rainforest to examine the spread of deforestation and then flying over to China to observe the environmental impact of the Three Gorges dam. These landscape changes and others come to life as students examine paired satellite images from the United Nations Environmental Program's Atlas of Our Changing Environment. In addition, students are able to infer how such natural and human-induced changes might affect the ecological and human communities at each site. Although Google Earth provides historical imagery at an almost endless number of sites around the world, the United Nations' paired satellite imagery is particularly useful for this lesson because this collection of sites were selected to represent a rich variety of landscape change.
Curriculum materials:

Additional materials:
What are our teachers saying about this lesson?
From the middle school science classroom:
"One of the strengths of the activity is that each student was able to identify his or her own dramatic examples from the images. The students searched until they found their own "aha" moment. If the images didn't win their hearts immediately, they went to another spot. It was obvious that the curriculum was engaging because of the content, but also because it used seductive technology. Google Earth does pull everyone in. It pulls everyone in to unlocking the biological community story within the "before" and "after" images."
Learn more about Jim Murphy's experience in our article, "From Local to Global: A Bird's Eye View of Changing Landscapes," in the American Biology Teacher.
From the high school biology classroom:
"It's both visual and interactive." What could tenth grade biology teacher Michelle Watkins be referring to? Google Earth, of course!

After using Google Earth in the Crossing Boundaries module "A Bird's Eye View of Changing Landscapes" as a review to prepare students for the Regents last year, Michelle decided to include it in the human impact unit of her Living Environment class. Students used Google Earth to look at land use change and habitat fragmentation over time in local, national, and international sites, Maple Ridge Wind Farm and the new Wal-Mart being the local highlights. "Looking at the wind turbines on Google Earth is pretty spectacular," said Michelle. There was also the possibility to map areas of positive land use change over time and make class interdisciplinary with a discussion about tradeoffs. Michelle praised the use of Google Earth as an "effective way to identify that tragically, very often, economics limit responsible decisions. It was a neat way to touch that without making it a stand-alone lesson."

Read more about Michelle's experience on our Crossing Boundaries Blog.