Professional Development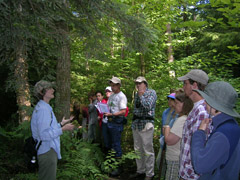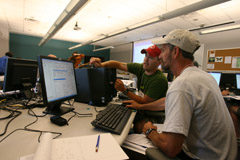 Crossing Boundaries is a year-long professional development experience that includes access to the Crossing Boundaries curriculum, sustained teacher professional development, and a variety of opportunities for students to see scientific and environmental careers in action. Secondary teachers and students analyze environmental and conservation related issues in their local and regional environments as well as in the Brazilian Amazon, Cloud Forest in Mexico, and Kenyan Savannah. A range of technology options enables students to interact with scientists, conservation professionals, undergraduate interns, and graduate students who are working on biodiversity-related research in intriguing regional and international settings.
Participating teachers learn about geographic information technologies, such as GIS, GPS, Google Earth, Google Maps and communication technologies, such as blogs, wikis and podcasts. These and other tools create powerful opportunities for teaching, learning, and assessment. Science teachers of all backgrounds and comfort-levels with technology are encouraged to apply.
The ultimate goal of this project is to help middle and high school students learn science concepts central to the NYS curriculum as they use technology to explore environmental and conservation issues. In addition, students will see the myriad of careers that make use of geospatial and communication technologies to investigate, address, and communicate about environmental issues on regional and global scales.
Dates for the 2011 Summer Institute are:
June 27th - July 1st

August 22nd - 24th
Teachers of all types of secondary science courses from the Finger Lakes Region are welcome to apply. We especially encourage applications from those who are teaching courses in general science, biology, environmental science and/or for students who are characterized as academically-challenged.
During the Crossing Boundaries Institute, teachers will:
experience field- and computer-based inquiry investigations that incorporate the use of geospatial and communication technologies,

use the Crossing Boundaries curriculum to learn about international conservation issues,

learn about international environmental and conservation issues from regional science educators, scientists, planners, and other professionals,

learn how to use a variety of technologies within a supportive context, share ideas and build relationships with other innovative teachers participating in the Institute, and

develop lessons that use geospatial and communication technologies to help their students learn science while addressing local or regional environmental issues.
Crossing Boundaries teachers are recruited from throughout the Finger Lakes Region.
Participating teachers will receive the following:
Stipend for the five-day conference in July ($500)
Stipend for three-day conference in August ($300)
Meals and housing throughout the experience
Opportunities to learn new skills and develop your own curriculum projects during Saturday workshops held throughout the school year ($100 stipend per day for up to four workshops)
A school-wide site license for ArcGIS 10 ($8500 value)
Text and curriculum resources focused on integrating geospatial technologies, such as GIS, GPS, Google Earth, Google Maps and communication technologies, such as blogs, wikis and podcasts into your science teaching.
Access to a variety of customized GIS datasets for the Finger Lakes Region and New York State
Technical and pedagogical support throughout the school year
Access to classroom sets of GPS units that can be borrowed for classroom use
Access to a community of educators who share your interests and goals
The option to receive professional development credit for participation in the Institute
The ability to participate in a year-long, tuition paid, three-semester hour graduate course, at Hobart and William Smith Colleges, associated with this project (EDUC792: Exploring Biodiversity Using Emerging Technologies)
Potential opportunities for leadership and international travel for curriculum development
Crossing Boundaries and our previous project, entitled GIT Ahead, have supported over 90 Finger Lakes science teachers over the past four years. By working collaboratively with participating teachers, we have created an effective professional development model that supports science teachers wishing to use technology in their classrooms. We focus on providing teachers with a supportive and collaborative atmosphere within which they can learn about new tools and find ways to integrate them into existing curricula, including Regents science courses, courses for pre-Regents students, and elective or AP courses. Crossing Boundaries teachers vary in their experience using technology and the courses they teach (Living Environment, Environmental Science, International Baccalaureate, AP Courses, General Science, etc.). We work closely with each educator to help them use geospatial and communication technologies in ways that meet their professional goals and fulfill the needs of their students.
Professional development stipends are distributed twice a year. Summer stipends will be paid at the beginning of the school year when teachers complete a teacher survey and return student surveys to the project manager. Saturday workshop stipends will be distributed at the end of the year upon the completion of a teacher survey, return of student surveys, and possibly participating in an interview. Research participation is a required part of our project and is designed to benefit both the project and the field of science education more generally.
Enrollment in the 2011 Crossing Boundaries Institute is limited to 20 participants. You may access the application materials below and send the application form to Mike Batek at the address listed below or via email. Finally, please let us know if you have any questions. We hope to see you this summer!
Please note: Applications are due March 14, 2011. We plan to make acceptance decisions on or around April 1st.
Application Form (Word)
Application Form (PDF)
Sincerely,
Jim MaKinster, Project Director, Hobart and William Smith Colleges
Nancy Trautmann, Project Director, Cornell Lab of Ornithology
Mike Batek, Project Manager, Hobart and William Smith Colleges
Courtney Wilson, Curriculum Development Specialist, Cornell Lab of Ornithology
Please contact Mike Batek, the Crossing Boundaries Project Manager, for more information, or to be put on our mailing list for announcement reminders.
Mike Batek
300 Pulteney St.
Merritt Hall
Geneva, NY 14456
batek@hws.edu
315-781-4345